Hier finden Sie alle Neuigkeiten rund um das Thema Spenden, zu unseren aktuellen und vergangenen Spendenprojekten.
24. Juni 2021: Spendenziel fast erreicht
Die unglaublich hohe Spendenbereitschaft hat uns überwältigt. Zur Einweihung des Brunnens am 24. Juni war das Spendenziel von 29.000 € bereits fast erreicht. 27.146 € Spenden wurden gesammelt. HERZLICHEN DANK an alle Spenderinnen und Spender.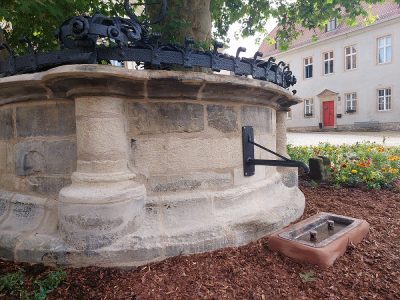 24. Juni 2021: Einweihung des restaurierten Brunnens
Geschafft: Der Brunnen auf dem Domplatz sprudelt wieder. Nach einem feierlichen Gottesdienst zum Johannistag im Merseburger Dom trat die Domgemeinde auf den Domplatz hinaus. Zahlreiche Förderer, Spenderinnen und Spender, die die Restaurierung des Brunnens erst ermöglichten, waren ebenfalls zum Domplatz gekommen.
Juni 2021: Restaurierung fast abgeschlossen
Die Restaurierungsarbeiten am Dombrunnen laufen auf Hochtouren. Steinarbeiten wurden vorgenommen, der Naturstein gereinigt und behutsam instandgesetzt. Ein Wasserkreislauf wurde angelegt, damit das Wasser in Richtung Domplatz aus dem Brunnen herausfließen kann. Trotz knappem Zeitplan steht weiterhin der Einweihungstermin am Johannisfest, 24. Juni 2021.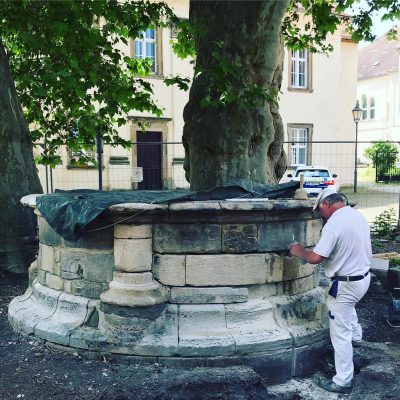 April 2021: Die Restaurierung des Brunnens auf dem Domplatz beginnt
Es geht los! Mit dem Frühling können auch die Baumaßnahmen zur Ertüchtigung des Merseburger Dombrunnens beginnen. Wir haben uns einen straffen Zeitplan auferlegt. Bis zum 24. Juni 2021 soll der Brunnen wieder sprudeln. Dafür wurden bereits die Bekrönung des Brunnens abgenommen und das Umfeld gerodet. Nun soll die schwere Betonplatte, die den Brunnen seit knapp 100 Jahren verschließt, abgenommen werden, um den Brunnen wieder in betrieb zu nehmen und einen Wasserkreislauf auf dem Domplatz einzurichten. Dombaumeisterin Regine Hartkopf erläutert here die Pläne zur Ertüchtigung des Brunnens.
Spenden für das Brunnenprojekt sind weiterhin möglich.
Jetzt spenden!
November 2020
Unser Online-Spendenprojekt ist gerade gestartet. Wir
freuen uns über Spenden, so dass das Projekt bald umgesetzt werden kann.
In our Stifterbriefen, which are published twice a year, we inform about the latest developments at Vereinigte Domstifter, the Naumburg Cathedral, the Merseburg Cathedral and the Chapter Library in Zeitz. There you also find out all about current and past donation projects.